The PIANOFORTE Partnership is pleased to announce the launch of its first open call for proposals to support research projects aimed at improving knowledge and promote innovation in the field of radiation protection.
This 1st call addresses 3 main topics:
Topic 1: Developing a knowledge base for a better understanding of disease pathogenesis of ionising radiation-induced cancer to improve risk assessment.
Topic 2: Individualised diagnostic as well as therapeutic procedures with regard to optimisation of the benefit/risk ratio.
Topic 3: Development of risk assessment and risk management approaches and technological capabilities to cope with scenarios arising from threats due to war or armed conflicts situations or natural disasters taking into consideration social, ethical and legal issues.
The main aim of this open call is to support transnational research projects that combine innovative approaches in the field of radiation protection in line with the research priorities of PIANOFORTE.
The call text, rules of participation, proposal template and guidelines for applicants are available here.
SAVE THE DATE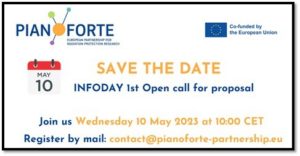 The Pianoforte Partnership will hold a virtual information session about its first call for proposal on May 10, 2023. Register by mail to receive the link to the webinar (contact@pianoforte-partnership.eu).