Following the European Commission launch event of the European Cancer Imaging Initiative in Brussels on 23 January, EIBIR is pleased to announce the official kick-off of the European Federation for Cancer Images (EUCAIM), a ground-breaking federated infrastructure deployment project aiming to power up imaging and AI towards precision medicine for Europe's cancer patients and citizens.
EUCAIM is the cornerstone of the European Commission-initiated European Cancer Imaging Initiative, a flagship of Europe's Beating Cancer Plan (EBCP), which aims to foster innovation and deployment of digital technologies in cancer treatment and care to achieve more precise and faster clinical decision-making, diagnostics, treatment and predictive medicine for cancer patients.
The project is scientifically led by Prof. Luis Martí-Bonmatí, Director of the Medical Imaging Department, Chairman of Radiology, La Fe University and Polytechnic Hospital (Valencia, ES), and coordinated by the European Institute for Biomedical Imaging Research (EIBIR), established by and headquartered at the European Society of Radiology in Vienna, AT. Co-funding is provided by the European Commission Digital Europe Programme with EUR 18 mio.
For more information click here.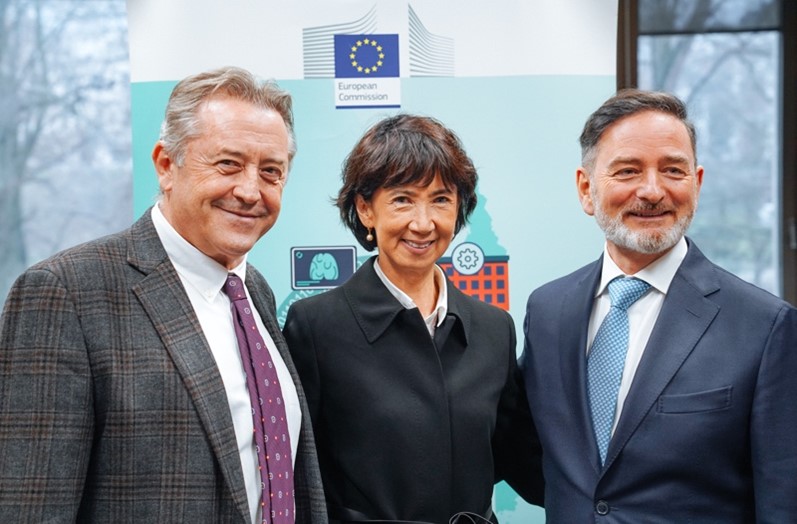 From left: Prof. Luis Martí-Bonmatí, EUCAIM Scientific Coordinator; Prof. Regina Beets-Tan, Chair of the ESR Board of Directors; and Marco Marsella, European Commission DG Connect, Head of Unit, eHealth, Well-Being and Ageing