Annual Scientific Report 2019
EIBIR is proud to look back on another successful and productive year of engaging with its members and partners. This annual report summarises the activities of the EIBIR community, including on-going research projects, an update on our joint initiatives, as well as an outlook into the future. Enjoy the read and let yourself be inspired to become involved in EIBIR's activities in the field of biomedical imaging research!
Editorial
Dear Network Members, Corporate Partners, Colleagues, and Friends,
It is my pleasure to present the Annual Scientific Report of the European Institute for Biomedical Imaging Research (EIBIR) for the year 2019.
It has been another eventful year for EIBIR, with several Horizon 2020 projects ongoing or concluding and one project starting. These projects range from developing ground-breaking imaging technologies to better understanding disease and radiation protection, which truly reflects the multidisciplinary nature of the scientists we support. Within these projects, EIBIR has varied roles as it leads project management & dissemination and, in the case of two projects, also acts as project coordinator. The latest news on all projects is included in this report.
In addition to these collaborative, EU-funded projects, EIBIR also continued to support two investigator-initiated, industry-sponsored clinical studies: The MIPA and the SPECIFIC studies, both of which are dedicated to current issues in the field of biomedical imaging and aim to improve patient safety and overall clinical results.
The past year also saw activity from the EURAMED Joint Initiative, which worked together to prepare and submit a further proposal in the field of medical radiation protection. This proposal has since been invited to Grant Agreement preparations in early 2020.
Furthermore, EIBIR is supporting experts from the European Society of Radiology the development of an imaging database catalogue.
I would like to take this opportunity to thank our members for their great support again in 2019. As a result of their continued backing, EIBIR is able to offer proposal preparation and project management services to biomedical imaging researchers at a fraction of the cost charged by similar entities in the private sector. On behalf of the entire EIBIR team, I can say that we all look forward to seeing our partnership continue in the coming years.
I hope our Annual Scientific Report will inspire you. If you want to be a part of this success, I encourage you to contact us so we can assist you in preparing a successful research proposal and guide you through your European research initiatives.
Sincerely,

Gabriel Krestin
Our services
We provide proposal preparation and project management support for Horizon 2020 and other European funding schemes.
Over the last 10 years, EIBIR has helped shape the landscape of European biomedical imaging research by supporting scientists and helping them secure funding for their projects.
High-level project management is required to ensure the successful accomplishment of every project's goals. We offer expert advice, project management and coordination, communication and dissemination services for collaborative research projects and clinical studies. Our mission is to ensure optimal conditions for researchers to develop their dream projects by relieving them from all related administrative and management work.
EIBIR is an expert in developing competitive project proposals
There are several unique benefits of having EIBIR support the preparation of a research proposal. Over the course of the last 10 years, the EIBIR team have gained a clear understanding of what the European Commission expects in each section of a research proposal. EIBIR is a strong partner in all aspects related to writing a proposal for research funding, including assistance in drafting and finalising the budget.
One of the main advantages of working together with EIBIR is the opportunity to benefit from the expertise of our Scientific Advisory Board. It consists of more than 35 international experts from various specialties who can provide critical scientific feedback on your project ideas.
We also offer assistance in consortium formation and identifying suitable academic, industry or SME partners for your project.
Since 2006, EIBIR has helped to secure over €90,000,000 in research funding for biomedical imaging. This is testament to our effectiveness in promoting and supporting biomedical research.
Successful project management support
Once your research proposal has been granted, we offer professional project management and coordination, communication and exploitation services for your research projects and clinical studies.
EIBIR is a reliable partner in following the rules and regulations of Horizon 2020 while making them more easily accessible and less burdensome and gives you space and time to focus on project's success.
Save precious time
We are aware you already have many demands on your time. By assuming management and administrative responsibilities, we relieve you of these time- consuming tasks, allowing you to focus on your research instead.
| | |
| --- | --- |
| Service | Description |
| Proposal preparation support | Submission of project idea and pre-proposal check, consortium formation and communication, proposal writing and budget planning, document polishing & editing, submission to European Commission |
| Project management | Grant and consortium agreement preparations, regular European Commission project reporting, financial management of your project, communication and dissemination |
| EIBIR Electronic Data Capture Platform | The EIBIR Electronic Data Capture (EDC) Platform can be used to collect and manage almost any type of digital data that is part of your biomedical research — from numerical values or text, to DICOM images. |
| EIBIR Joint Initiatives | Participate in EIBIR's interdisciplinary groups that work towards a biomedical imaging research goal or start a new joint initiative related to your field. |
| EIBIR Scientific Advisory Board | Have your institution represented on our Scientific Advisory Board and help shape the future of biomedical imaging research (candidates are subject to approval procedure by the current EIBIR shareholders before appointment). |
| EIBIR Dissemination Support | Send us updates and news from your research and we'll share it via our online and social media channels. |
| EIBIR Members Bulletin | Regular updates on expected funding calls to give you a head start on your proposal preparation. This service gives our members an early indicator of the funding opportunities available to them, which also gives them a crucial advantage in proposal preparation. |
Flexible pricing
Our range of support services to research institutions can be accessed via three service package categories at affordable, flexible pricing. As a non-profit organisation, EIBIR aims to boost the success of biomedical imaging research in the European funding landscape by providing crucial support services.
To fully benefit from our services, you can become part of the EIBIR Network for a reasonable annual fee.
For proposal preparation only, we now offer alternative pricing options including a success fee of 1.5% of the total requested project budget. For more information on the available pricing options, please contact our office.
| | | | |
| --- | --- | --- | --- |
| Service package fee per calendar year institution | €1000 | €200 | €100 |
| EIBIR Proposal Preparation support, consortium building and project management (full proposals, stages 1 and 2) | ✓ | | |
| EIBIR Proposal Preparation support, consortium building and project management (first stage only) | ✓ | ✓ | |
| EIBIR Network Consortium Building | ✓ | ✓ | ✓ |
| EIBIR Electronic Data Capture Platform | ✓ | ✓ | |
| EIBIR Joint Initiatives | ✓ | ✓ | |
| EIBIR Scientific Advisory Board1 | ✓ | ✓ | |
| EIBIR Dissemination Support2 | ✓ | ✓ | ✓ |
| EIBIR Members Bulletin | ✓ | ✓ | ✓ |
| EIBIR Network Database | ✓ | ✓ | ✓ |
1Please note that this conditional on the approval of EIBIR's shareholders
2Please note that EIBIR cannot guarantee that every update or news item sent to it can be published via its dissemination & communication channels.
About us
Combining the expertise of our scientific advisory board, advice from our multi-disciplinary shareholder groups, input from the European Society of Radiology Research Committee and recommendations from the industry panel, EIBIR benefits from the guidance and support of a multi-faceted organisational structure that ensures EIBIR and biomedical imaging are at the forefront of research activities in Europe.
You can read more about EIBIR and its structure here.
Scientific Advisory Board
Our Scientific Advisory Board (SAB) sets and guides the organisation's long-term strategies and goals for biomedical imaging research. It also provides invaluable expert advice and feedback to researchers on their proposals.
In 2018, the SAB met twice to discuss EIBIR's strategy for future research calls and to brainstorm on new ideas that can better serve researchers and further promote the role of biomedical imaging in European research.
Scientific Director
Gabriel P. Krestin is full professor of Radiology and Chairman of the Department of Radiology at Erasmus MC, University Medical Center Rotterdam, the Netherlands. His main areas of research are: imaging of abdominal organs and of cardiovascular diseases, molecular imaging and population imaging. He is a member of the recently established Scientific Panel for Health of the European Commission.
Shareholder representatives
Anja Almen – EFOMP
Owen Arthurs – ESPR
Marc Dewey – ESR
Wolfgang Dörr – ESTRO
Casper Garos – COCIR
Jolanta Kunikowska – EANM
Jonathan McNulty – EFRS
Philippe Pereira – CIRSE
Erik Ranscheart – EuSoMII
Marion Smits – ESMRMB
Marion Smits – EORTC
JI directors
Nandita de Souza – EIBALL
Christoph Hoeschen – EURAMED
Michal Neeman – Preclinical imaging
Wiro Niessen – AI for medical imaging
Karen Rosendahl – Paediatric radiology
Francesco Sardanelli – EuroAIM
Regular members
Thomas Beyer
Vincent Dousset
Glenn Flux
Xavier Golay
Horst Hahn
Myriam Hunink
Hans-Ulrich Kauczor
Alexandre Krainik
Georg Langs
Luis Marti-Bonmati
Celso Matos
Konstantin Nikolaou
Anders Persson
Antonio Pifferi
Andrea Rockall
Steven Sourbron
Oliver Speck
Shareholders
EIBIR's shareholder organisations exemplify the importance of a multidisciplinary approach in biomedical imaging research. Their support is vital to EIBIR's decision making.
European Society of Radiology
www.myesr.org
Cardiovascular and Interventional Radiological Society of Europe
www.cirse.org
European Coordination Committee of the Radiological, Electro- medical and Healthcare IT Industry
www.cocir.org
European Association of Nuclear Medicine
www.eanm.org
European Federation of Organisations in Medical Physics
www.efomp.org
European Federation of Radiographers Society
www.efrs.eu
European Organisation for Research and Treatment of Cancer
www.eortc.org
European Society of Paediatric Radiology
www.espr.org
European Society for Magnetic Resonance in Medicine and Biology
www.esmrmb.org
European Society of Medical Imaging Informatics
www.eusomii.pro
European Society for Radiotherapy and Oncology
www.estro.org
Industry panel
The Industry Panel allows EIBIR and its member industry organisations to identify shared interests and opportunities for collaboration.
The cost for membership packages ranges from €10,000 for Gold, €5,000 for Silver and €1,000 for SMEs. Industry Partners benefit from EIBIR services according to their varying financial commitment.
The long-standing commitment of EIBIR's industry partners have allowed projects such as the MIPA study, and EIBIR looks forward to enhanced cooperation in the coming years.
Gold industry member
Silver industry members
SME industry members
EIBIR Team
We are a professional team with significant experience in the field of biomedical imaging research funding, extensive knowledge of the European Commission requirements and European research landscape.
Our network
The EIBIR network is built upon the strength of its partners, and we would like to thank all organisations and individuals who have recognised the importance of becoming involved. Our Network is open to institutions from all disciplines with an interest in biomedical imaging and welcomes bottom-up initiatives and active involvement.
It represents 64 institutions from 21 countries and includes universities, research organisations, hospitals, large industry and SMEs active in a variety of different imaging-related fields.
| | |
| --- | --- |
| Network statistics as of 31/12/2019 | |
| Active service package | 33 |
| Regular service package | 28 |
| Associate service package | 3 |
| Total | 64 |
Joint Initiatives
Our six joint initiatives represent interdisciplinary groups working towards a common bioimaging-focused research goal.
EIBIR supports joint initiatives in setting up a new research- oriented community of scientists.
EIBIR Joint Initiatives (JI) represent interdisciplinary groups working towards a common biomedical imaging-focused research goal to strengthen the JI's specific research area.
In 2018, EIBIR supported eight JIs with specific activities, including the coordination of collaborative research efforts, communication and dissemination of research results or announcements, and the organisation of workshops, meetings and training.
AI for medical imaging
Preclinical imaging
European Network for the Assessment of Imaging in Medicine (EuroAIM)
European Alliance for Medical Radiation Protection Research (EURAMED)
European Imaging Biomarker Alliance (EIBALL)
Paediatric Radiology
START YOUR OWN JOINT INITIATIVE
To start a JI within EIBIR, a written concept describing the group's aims, goals and mission is to be presented to our Scientific Director. It should include the name of the future Director of the JI, potential members and ideas for activities for the coming year.
The application will be reviewed by the Scientific Director and the SAB. After positive feedback from the Scientific Director and the SAB, the JI and its Director have to be formally appointed by the EIBIR shareholders during the annual EIBIR General Meeting held on the occasion of the annual European Congress of Radiology. The JI Director then becomes an ex officio member of the EIBIR SAB.
Following formal establishment, the JI Director invites potential members of the JI. We can help you in advertising the new JI by sending out information in our newsletters and distributing it to our shareholders.
The overall goals and aims are consolidated in a kick-off meeting of the JI, in which the strategic course of action and responsibilities of the JI Director and JI members are defined.
During meetings of the SAB, the JI Director is reports on the JIs activities and present the strategic goals for the upcoming year(s).
EIBIR will offer administrative support to the JI Director, however, there is no additional financial support available for the directors or members unless provided within specific projects. All JIs will benefit through the EIBIR networking opportunities and collaboration in research projects.
EURAMED
EURAMED led the successful submission of a proposal addressing the Horizon2020 NFRP-13 call "Research roadmap for medical applications of ionising radiation" in September 2019 and was just recently invited to the Grant Agreement negotiations. The project consortium comprises a group of 29 partners including major universities and research centres in the field. The 3-year 'EURAMED rocc-n-roll' project will seek to establish an integrated and coordinated European approach to research and innovation for medical applications of ionising radiation and related RP, based on stakeholder consensus and existing activities in the field.
The project aims to critically assess current research and radiation protection needs in the clinical disciplines using ionising radiation, with the goal of benefitting the European population in the most optimal, safe, and egalitarian manner, by fostering clinical translation, while also strengthening economic growth and industrial competitiveness. Representation of relevant radiation protection disciplines along with clinical experts in the field will be complemented by policy, as well as by AI and industry experts in the consortium. A fully integrative approach such as this, would therefore enable a broader framework for quality and safety in healthcare.
As a result, 'EURAMED rocc-n-roll' will produce a Strategic Research Agenda (SRA) for medical applications of ionising radiation and related RP issues, which will build upon the EURAMED SRA published in 2017, as well as the existing SRAs of the other radiation protection platforms. A corresponding roadmap and an interlink document will also be provided, and all of these reports will integrate and identify the synergies from the areas of radiation protection, health research and digitisation. This will be accompanied by education and training schemes for health workers and scientists to increase European research capacity in the field.
This work will largely depend on input from stakeholders in the field, in particular from the medical community.
Highlights of 2019
We look back on another successful year, opening new perspectives in the field of biomedical imaging research.
European Congress of Radiology 2019
In 2019 EIBIR continued its presence at the European Congress of Radiology's programme with a Coffee and Talk Session dedicated to EU-funded research in imaging. The Session 'EU-funded research in imaging and how you can get funding' took place on February 28, 2019 and featured speakers from the EIBIR team and one project partner. Antonio Pifferi from POLIMI, Italy informed about the SOLUS project and outlined the EIBIR support during the grant preparation and in the running project. From the EIBIR team Pamela Zolda informed about support services for researchers and Peter Gordebeke presented European funding opportunities for imaging research. Finally, Gabriel Krestin, EIBIR Scientific Director, introduced EIBIR's Strategic Research Agenda for Biomedical Imaging. The lively discussion between speakers and attendees showed the broad interest in all presented topics.

EIBIR is partner in the new FET-OPEN project: AlternativesToGd
EIBIR is proud to announce to be partner in a new project that is funded under the FET-OPEN programme. FET-OPEN supports ambitious high-risk projects, that are interdisciplinary and are challenging current paradigms.
The project Hyperpolarised MR technologies and molecular probes as alternatives for conventional metal-containing contrast agents for MRI examinations (AlternativesToGd) was selected for funding from a total of 421 applications.
Recently, the European Medicines Agency (EMA) issued a recommendation to suspend three widely used magnetic resonance imaging (MRI) contrast agents (CAs) that are Gadolinium (Gd)-bearing CAs (GBCA). This decision relates to potential major health concerns resulting from long-term accumulation of Gd containing species in the patients' bodies. The AlternativesToGd vision is to identify and validate radically new compounds and technologies as alternatives to GBCAs. The agents will consist of small endogenous molecules, in which nuclear spins are hyperpolarised to ensure high sensitivity to MR detection, even at very low doses. The project's ultimate goal is to demonstrate the feasibility of replacing Gd-bearing contrast agents in at least one type of contrast-enhanced MRI examination – with the motivation to stimulate further research and development in academia and industry.
The project will run from October 1, 2019 and until September 30, 2022 and six interlinked work packages: The work program is composed of research in fields from formulations for solid-state process to solutions and encapsulation technology, polarisation transfer in the solid-state and solution, material science, and electrical engineering. The consortium will (1) develop and validate dissolution-dynamic nuclear polarisation agents, (2) develop other hyperpolarisation technologies and validate the resulting HP agents and (3) enable the validation of hyperpolarised imaging. The technical work will be accompanied by dissemination, exploitation and project management activities that are led by EIBIR.
On October 10/11, 2019 EIBIR welcomed all partners to the kick-off meeting in Vienna. During the meeting the project coordinator, Prof. Rachel Katz-Brull from Hadassah Medical Organization, Israel, outlined the project objectives and goals. The EIBIR team introduced the consortium partners to the necessary formal procedures (reporting, quality assurance, risk management) and laid the foundation for a good project internal communication, which is key for European research projects. Work package leaders presented their work packages, consolidated the work plan and highlighted interdependencies and collaborations with other work packages and partners. The AlternativesToGd consortium was pleased with the outcome of the meeting and is looking forward to the collaboration in the upcoming years.
For more information, scroll down or visit the project's website at www.alternativestogd.eu.
ESR Research Seed Grants
Together with the European Society of Radiology (ESR), EIBIR has launched a new seed funding programme for innovative one-year projects and pilot studies. The funding priorities 2020 are for research in Artificial Intelligence and Cardiac Imaging.
The purpose of the programme is to stimulate and provide finding for ambitious projects that will subsequently lead to larger studies and further funding applications. Seed grants may amount to € 4,000 – € 8,000 for a period of 12 months. Up to 10 projects will be funded in 2020 and the recipients will be announced at ECR 2020.
More information on the ESR Research Seed Grants is available here.
Public-Private Partnership under Horizon Europe
Five industry associations representing pharmaceutical, biotech and medical technologies industries operating in Europe (COCIR, EFPIA, MedTech Europe, EuropaBio and Vaccines Europe) have come together to work on a Strategic Agenda for Innovation in Healthcare. This Agenda falls in the framework of the proposed Innovative Health Initiative Public-Private Partnership under the next European Commission's research framework programme, Horizon Europe. Its objective is to guide future public-private research & innovation that would contribute – alongside other European research funding instruments – to addressing some key European healthcare challenges in an integrated manner.
The challenges presented in EIBIR's Strategic Research Agenda for Biomedical Imaging (e.g. personalised disease prevention by medical imaging, the use of Artificial intelligence and machine learning in imaging for disease prediction) are perfectly in line with the areas of action outlined in the current consensus document for the Innovative Health Initiative proposal, namely to deliver innovative solutions to prevent diagnose treat and manage diseases, while preserving the sustainability of the healthcare systems and competitiveness of healthcare industry.
EIBIR therefore welcomes the implementation of the Public-Private Partnership under Horizon Europe, as it will warrant the integration between industry and academia, provide funding opportunities that are necessary to address current challenges in health care research and help to maintain Europe at the forefront of medical innovation. It provides a unique opportunity to position biomedical imaging more prominently for years to come.
A full statement of support from EIBIR can be found here.
Image Collection Catalogue
The ESR is collaborating with the Biobanking and Biomolecular Resources Research Infrastructures – European Research Infrastructure Consortium (BBMRI-ERIC) with the goal of supporting the integration of imaging data with biobank databases to create a European biobank for medical imaging.
Over the course of 2019, the ESR experts of the MIABIS (Minimum Information About BIobank data Sharing)-DICOM (Digital Imaging and Communications in Medicine) Working Group, together with EIBIR, started work on a catalogue to describe image collection for use in AI/machine learning research. The technical aspects of the catalogue are currently being finalised.
Our projects
We are proud to support more than 140 partners from 30 countries researching various forms of cancer and neurological disorders, and developing novel imaging technologies.
Clinical studies
EIBIR currently provides its support to two industry-funded multi-centre clinical studies:
The MIPA study, led by the University of Milan and funded by Bayer, is investigating pre-operative breast MRI for breast cancer and recently finished its patient enrolment.
The SPECIFIC study is investigating myocardial perfusion imaging using perfusion CT and is funded by Siemens and Bayer, with Erasmus Medical Center and University Hospital Tübingen serving as the scientific leads.
Electronic Data Capture Platform
EIBIR launched its Electronic Data Capture platform in 2018. This platform can be used to collect and manage almost any type of digital data which is part of a clinical study, including DICOM images. The platform uses a secure web application for building and managing study databases with great flexibility and ease-of-use. EIBIR can also assist in setting up the data collection forms for your study.
EIBIR's Electronic Data Capture Platform allows its network members to collect a wide range of research data for their studies in an easy-to-use system. Among others, the platform is currently in use by the EUCLID project, a European Commission Tender project on clinical diagnostic reference levels for x-ray medical imaging led by the ESR, and a large multi-centre study on a machine learning CT-derived FFR application under the lead of Erasmus Medical Center.
The MIPA study
Multicenter International Prospective Meta-Analysis of Individual Woman Data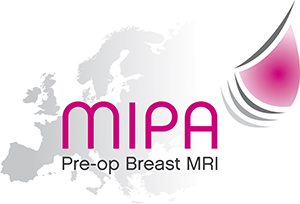 The MIPA study is led by EIBIR and Prof. Francesco Sardanelli (University of Milan, Italy and past-president of EUSOBI). The study conducts a systematic evaluation of pre- operative breast MRI, examining individual patient data in a multi-centre setting with the aim of clarifying matters regarding the ongoing uncertainty in the application of pre-operative MRI in breast cancer patients. MIPA collects data on recent first-time breast cancer diagnoses and compares surgical outcomes for those who undergo pre-operative MRI with those who do not. Data is being collected from more than 30 centres in Europe and beyond. The results will be vital for a better understanding of the effect pre-operative breast MRI has on clinical decision-making. In 2018, MIPA completed its recruitment of the target sample size of 7,000 patients and in the past year MIPA continued with the follow-up and data analysis. EIBIR acts as the contracting partner for all participating centres in the MIPA study, provides management and administrative support, and handles all finances and leading dissemination efforts.
The SPECIFIC Study
Dynamic Stress Perfusion CT for Detection of Inducible Myocardial Ischemia

The SPECIFIC study is an international clinical study investigating myocardial perfusion imaging, which is funded by Siemens and Bayer with Erasmus University Medical Center (Rotterdam, the Netherlands) as the study sponsor, and the University Hospital Tübingen as co-sponsor. Cardiac CT provides accurate assessment of the coronary arteries and detects significant coronary stenosis with high diagnostic accuracy. This information is highly relevant, but ignores the haemodynamic relevance of lesions detected this way, which is essential for clinical decision-making. The recent development of third-generation, dual-source CT allows for the assessment of myocardial perfusion, and may determine the haemodynamic relevance of coronary lesions. The objective of the SPECIFIC study is to determine the diagnostic accuracy of CT myocardial perfusion imaging for the detection of haemodynamically relevant coronary stenosis, as determined by invasive fractional flow reserve as a reference standard in patients with suspected or known coronary artery disease who have been clinically referred for invasive angiography. SPECIFIC is investigating the feasibility of this approach through an international multi-centre study with recruitment in the Netherlands, Germany, Poland, Switzerland, Japan and the United States. In 2019, the recruitment target of more than 130 patients was reached. Currently, the data is being analysed and first results are expected in Q2-Q3 2020. Within SPECIFIC, EIBIR provides management and administrative support, handles financial matters between the study and participating sites, as well as dissemination of the study results through well-established channels such as the European Society for Radiology. Additionally, EIBIR monitors the electronic case report forms for the study.
Financial report
EIBIR's activities are financed by a number of sources, including Network and Industry Panel service package fees, support from the European Society of Radiology (ESR) and the shareholder organisations as well as EC funding for European research projects coordinated or supported by EIBIR and EIBIR project-related services provided to institutions against a fee.
A detailed annual financial report is presented to and approved by the shareholder organisations at the annual General Meeting, usually held during the European Congress of Radiology in Vienna.
At the EIBIR General Meeting held at ECR 2019, the financial report was approved;
Approved financial report for 2018
Total income
€827,830.36
Total expenditure
€760,155,52
Operating profit
€67,674.84
Total equity
€702,032.23
Do you have a great idea for research and are you planning to apply for funding?
We offer expert advice on proposal preparation and our scientific advisory board, with more than 35 scientists from all over Europe, can provide critical and highly valuable feedback on your research proposal.
Our proposal preparation and project management team has experience and a proven track record in applying for EU funding and managing projects, starting with FP6 all the way to today's highly competitive Horizon 2020 programme.
We are a non-profit organisation dedicated to helping scientists from all fields realise their research ideas while promoting the role of biomedical imaging research. You can benefit from our support services by subscribing to a service package and becoming part of the EIBIR Network at a competitive price.
Find out more about our services and get in touch with the EIBIR office to tell us about your proposal to see how we can help make your research idea a reality!